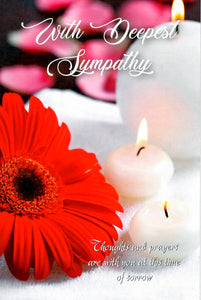 On the front of this Sympathy Mass card online, which has red flowers and candles on the front with the word Deepest Sympathy'.
When the sympathy Mass card is opened out, on the left hand page are the words 'Lord, welcome our Brothers and Sisters to Paradise and help us comfort one another with the assurance of our Faith, until we all meet in Christ'. The card is signed by the Prior of Whitefriar Street Church.
The right hand page reads: 'And they shall have no need of light of lamp, or light of sun, for the Lord God will shed light upon them. [Recipient's name] will share in special Masses day after day throughout the year and in Prayer of the Carmelites at Whitefriar Street Church, 56 Aungier Street, Dublin. … With sincere sympathy from [sender's name]'.
This Sympathy Mass card online is produced in Ireland and comes with a white envelope.
Please note: The price given is for the cost of the sympathy mass card and a donation towards enrolment for one year in the Share Masses offered in Whitefriar Street Church. The picture on the card may vary slightly from that shown but is representative of the style.
In Roman Catholic tradition, families enrol the names of their loved ones to be remembered at a Mass on a given day to mark significant moments in life. In Whitefriar Street Church, Mass is offered each week for those whose names are enrolled in the Share Mass Intentions Book. These names are included in the twice  weekly Share Mass for a year from the date of enrolment.
Closed:
W 11.5cm H 17cm
Open:
W 23cm
H 17cm