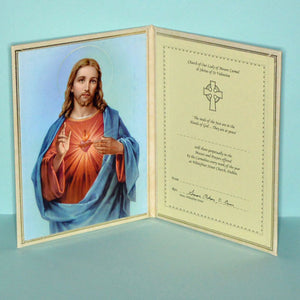 In Roman Catholic tradition, to mark significant moments in life, families enrol the names of their loved ones to be remembered at a Mass on a given day. In Whitefriar Street Church, the Carmelite Community offer Mass each day for those whose names have been enrolled in the Perpetual Mass Intentions Book. These names will be included in this Mass daily for as long as the Carmelites are responsible for this church. Perpetual Mass books online are mailed out via An Post every working day.
This Perpetual Mass card online for the dead has a heavy cover in brown with the crest of the Order of Carmelites on the outside above the words 'A Spiritual Gift'.
The Perpetual Mass card online for the deceased opens out to show a traditional image of The Sacred Heart on the left hand page. The wording on the opposite page reads: 'Church of Our Lady of Mount Carmel & Shrine of St Valentine … 'The souls of the just are in the Hands of God…They are at peace' … [The name of the deceased] will share perpetually in the Masses and Prayers offered every day of the year by The Carmelites at Whitefriar Street, Dublin'.
There is a space for the sender's name and the Perpetual Mass card is signed by the Prior of Whitefriar Street Church.
This Perpetual Mass card online for the dead is produced in Ireland and comes with an envelope.
Please note: The price given is for the cost of the card and a donation towards enrolment in the Perpetual Masses offered in Whitefriar Street Church.
At checkout you must include both the name of the recipient and the sender in special instructions.
Closed:
W 16.5cm H 22cm
Open:
W 33.2cm
H 22cm