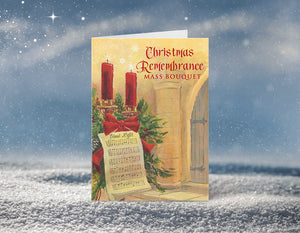 Christmas Mass remembrance Cards RIP are a beautiful and thoughtful way to remember our deceased relatives and friends at Christmas and particularly those that have died in the last year. Every year Whitefriar Street produces a Christmas Mass Remembrance Cards, it is a lovely way to remember loved ones and to acknowledge the loss of a family member at this important time of year.
On the front of this Christmas Mass Remembrance RIP Card is a religious Christmas image.
On the insert you can enter the name of the deceased person for enrolment who will share in the special  Masses and daily  prayer of the Carmelites at Whitefriar Street, Dublin.  The card is signed by the Prior of Whitefriar Street Church.
On the right hand page it has a Christmas Remembrance Verse is written inside each card . 
This Christmas Remembrance RIP Mass card is produced in Ireland and comes with a white envelope.
Please note: The price given is for the cost of the card and a donation towards enrolment for one year in the Share Masses offered in Whitefriar Street Church. The picture on the card may vary slightly from that shown but is representative of the style.
Final Date for posting is Wednesday December 20th 2023 within Ireland
Closed:
W 11.5cm H 17cm
Open
W 23cm
H 17cm