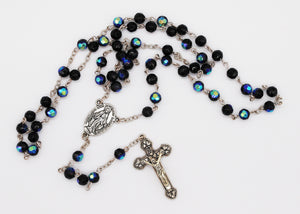 This popular set of beads is made of crystal beads joined by metal links. The cross is metal and the medal beginning and ending of each of the five decades has an image of the Immaculate Conception on one side, and on the other a traditional monogram of Our Lady surrounded by twelve stars surmounting two hearts.
Please note: the colour of the crystals may vary depending on stock.
Dark crystals with metal links. Please note that the colour of bead may vary from picture shown.